Goldberg Design is a full service interior design firm specializing in residential and commercial projects. We develop floor plans, design interior architectural details, prepare color/finish palettes, select furniture and fabrics, design window treatments and choose lighting fixtures, accessories and artwork. We offer project management services and specialize in taking a design concept from procurement to completion by working closely with our client to ensure complete satisfaction. We can also assist in coordinating your move upon completion.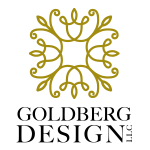 We create spaces that are both fresh and beautiful while at the same time livable and functional.
Over the years we have developed trusted working relationships with a cache of amazing and talented artisans such as: cabinet makers and lighting specialists, fine artists, decorative painters, wallpaper installers, upholsterers, drapery fabricators, landscape designers and installers, who we collaborate closely with to create and implement designs for our clients.
We have designed interiors for a diverse range of clients throughout the Northeast with some of our most recent projects being in Connecticut, Massachusetts, New York and New Jersey.
Residential – Our approach for residential clients is to take the time to understand individual goals and lifestyles which enables us to create a living space to accommodate those specific needs and wishes. The combination of our diverse experience, along with our network of artisans, allows us to offer exciting design concepts and unique design solutions for your home. Our spaces will delight the eye and make it a true pleasure to come home.
Commercial – We offer our commercial client the full understanding of the specific needs of their business ranging from institutional commercial to institutes of higher learning. We are proud to have worked for such noted institutions as Phoenix Home Life, Duncaster Retirement Community, Turner Construction, Carvell America, Prospect Realty, Trinity College, University of Connecticut and Yale University.
Medical and Healthcare – With extensive experience in the medical/healthcare field, we realize the importance of creating a beautiful and relaxing yet practical environment for our clients. Our talented team will work with you in designing a professional space with visual appeal for a healing experience. We have provided state-of-the-art design solutions for medical arts office buildings as well as hospital renovation and construction.
At Goldberg Design our mission is to work with you to develop innovative and creative spaces that are unique yet timeless. We recognize the importance of excellent customer service and strive to satisfy all your design needs.